Welcome to Waitara Pharmacy
We are an independent community pharmacy, owned by Margaret and Shane Helms since 2010, in Waitara about 15 minutes north of New Plymouth city. We pride ourselves on providing an outstanding and professional medicine management service.
Expert advice is always available from our pharmacists and a professional team of trained dispensary technicians and pharmacy assistants.
We have a huge range of medicines, supplements and products for the health and well-being of you and your family. Our Everyday Prices on selected products represent excellent value on the supplements and medicines we like to recommend.
The gift store within our pharmacy is a one-stop destination for shopping - from handbags to jewellery, kiwiana to post overseas, kitchenware, tableware and home accessories. Plus of course a gorgeous range of toiletries and bath products.
Our beauty ranges include Sukin, Trilogy, Maybelline, Natio and Designer Brands.
Our clinical services include Warfarin INR testing, Emergency Contraception, Silvasta consultations, and Bladder Infection consultations.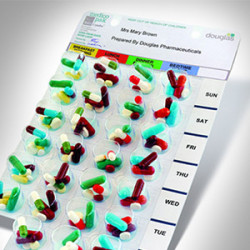 We provide a Medico blister-packing service, with a 3 month free trial, for eligible patients.
Free weekly text reminder service for repeat prescriptions that are due, just make sure we have your cell phone number. You can then order your repeat by phone and we will have it ready for you to collect.
Free local delivery is provided to those too unwell to collect their medicines.
No extra fees are charged for processing of faxed prescriptions, or contacting the Dr on your behalf.
First check mole check
We have a list of Everyday Prices on medicines and supplements that we like to recommend.
Other services include passport photos, ear piercing, wound dressings and weight management consultations, photo kiosks (specialty jobs are sent off-site.)
Our beauty ranges include Natio, Trilogy, Sukin, Maybelline, L'Oreal, and Designer Brands.
A gift shop is attached to the pharmacy and stocks a huge selection of gifts for all occasions - kiwiana to post overseas, stunning jewellery, handbags and housewares.
We have a Payment Plan available if you would like to deposit regular amounts into your own credit account.
Free Southern Cross Easy-Claim available - just bring in your membership cards and we will set this up so that your prescription costs are funded by Southern Cross at the time of collecting your prescription.
Ask about our Rewards Card - an exclusive loyalty programme that rewards every retail purchase in store.
For sensible, evidence-based New Zealand Information about a huge range of health conditions and medicines we suggest checking out Health A to Z and Medicines.
"I just wanted to let you know what an excellent service this is. I went into my Pharmacy and had a suspicious 'thing' on my neck checked with your app. Your results were in my inbox the very next morning… Once again, thanks for an excellent service."
The customer received their histology results with a skin cancer diagnosis – caught early enough for easy and successful treatment.
Our Firstcheck pricing is $29.99 for one spot, $44.99 for 2 spots or $59.99 for 3 spots. Or you can purchase your own skinscope for $29.99 and use the Firstcheck app to send your own images to Skin Institute for checking.
Explore Story
We are recruiting for a study of a Kānuka oil based cream for treating eczema. Participants need to be aged 18 – 65yrs, with a doctor's diagnosis of eczema. The cream will be provided free of charge. Reasonable costs associated with participating will be reimbursed. Phone us to find out more, or ask a pharmacist in-store.
Explore Story